More Red, TGIF!
Morning Outlook
Futures are heading lower once again on Friday, with fiscal cliff negotiations between the President and congressional Republicans set to begin. Let's be realistic, these talks will drag on and nothing will get done until the 11th hour, causing market turmoil and depressed consumer spending throughout the holiday season. Way to go Washington. It hasn't been the glorious of months to this point, with all three of the major averages down 4+%. Looking at futures this morning, the Dow Jones Industrial Average lost 43 points, or 0.3%, to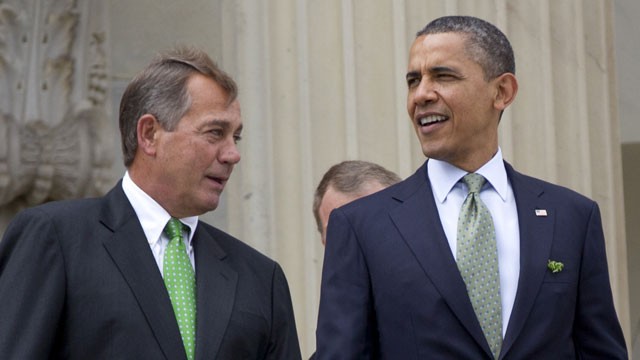 12,479, while those on the S&P 500 Index futures fell 4.7 points, or 0.3%, to 1,346.60. Nasdaq-100 futures dropped 6 points to 2,516.
Wall Street posted mild losses in trading Thursday, with down beat economic news related to Hurricane Sandy and continued fiscal cliff concerns leading equities lower. The Dow Jones industrial average slipped 28.49 points, or 0.23 percent, to 12,542.46, closing lower for the fourth consecutive session. The Standard & Poor's 500 Index lost 2.16 points, or 0.16 percent, to 1,353.33, with telecommunications leading 8 out of the 10 market sectors lower. The Nasdaq Composite Index was off 9.87 points, or 0.35 percent, to 2,836.94, also its fourth consecutive losing session.
Currencies and Commodities
Commodity markets moved lower on the higher dollar amid capital market uncertainty. Benchmark U.S. crude oil for December delivery shed 20 cents, or 0.23%, to $85.25 a barrel. Gold declined $7.20 to $1,706.60 an ounce in electronic trading, while silver lost 45 cents to $32.23 an ounce.
Economic Calendar
9:15 AM
Industrial Production: The index of industrial production measures the physical output of the nation's factories, mines and utilities. The consensus is for an increase of 0.2% in production for the month of October. Industrial production rebounded 0.4 percent in September, following 1.4 percent decline in August. The range goes from -0.1 % to 0.5% as the Street looks for some hopeful signs of manufacturing activity. Overall capacity utilization is expected to increase 1 bps to 78.4 after improving to 78.3 percent from 78.0 percent in August.